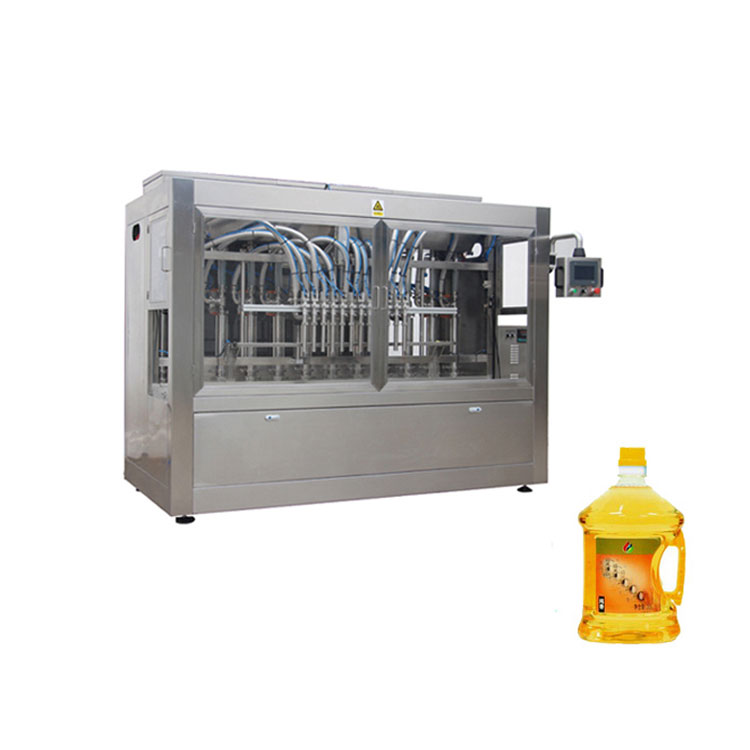 Katrangan Product
---
Mesin pangisi minyak otomatis otomatis anyar
1. Mesin kerangka utama mesin nggawe minyak nganggo teknologi kontrol otomatis PLC lan transducer kanthi otomatisasi.
2. Sistem dinamika mesin nggawe minyak disambungake kanthi poros transmisi kanthi kinerja sing stabil.
3. Prinsip ngisi gravitasi negatif mikro nambah presisi.
4. Wihch sistem pelumas otomatis maju sing dilengkapi ing mesin nggawe minyak ora mbutuhake gaweyan manual lan nambah umur urip mesin.
5. Swara mesin nggawe minyak kurang lan mesin umume gampang dijaga.
Parameter teknis
---
Model

  Ngumbah sirah, ngisi endhas lan kepala capping
Kapasitas produksi (botol saben jam 500ml)
Spesifikasi botol sing bisa ditrapake (mm)
Daya motor utama (kw)
NPACK14-12-5
14,12,5
4000BPH
200ml-2500ml

D = 55-110mm

  H = 150-310mm

1.5
NPACK
16-16-5
16,16,5
5500BPH
2.2
NPACK
24-24-6
24,24,6
8000BPH
2.2
NPACK32-32-8
32,32,8
10000BPH
3
NPACK40-40-10
40,40,10
14000BPH
5.5
NAPCK50-50-12
50,50,12
17000BPH
5.5
NPACK60-60-15
60,60,15
20000BPH
7.5
NPACK72-72-18
72,72,18
25000BPH
7.5
Rincian cepet
---
Jinis: Mesin Isi
Kondisi: Anyar
Aplikasi: Lenga
Jinis Kemasan: Botol
Bahan Kemasan: Kayu
Gred otomatis: Otomatis
Jenis Dipandu: Listrik
Tegangan: 380v
Kekuwatan: 7.5kw
Panggonan Asal: Shanghai, China (Mainland)
Jeneng merek: NPACK
Nomer Model: NPACK32-32-8 Mesin pangisi minyak otomatis otomatis anyar, NPACK32-32-8
Ukuran (L * W * H): 4600x1800x2650mm
Bobot: 9000kg
Sertifikasi: ISO, CE, SGS, ISO, CE, SGS
Layanan sawise adol sing diwenehake: Engineers kasedhiya kanggo mesin layanan ing luar negeri
Jeneng: Mesin pangisi minyak otomatis otomatis anyar
Kapasitas: 20000BPH
Daya motor utama: 7.5kw
Botol sing Bisa Ditrapake: D = 55-110mm H = 150-310mm
Waranti: 2 taun
Bahan Mesin: SUS304
Kemasan & Pangiriman
Rincian Kemasan:
kasus kayu standar kanggo mesin Isi minyak otomatis otomatis anyar
Detail kiriman:
45 dina kanggo mesin pangisi minyak otomatis otomatis anyar
Spesifikasi
---
Mesin pangisi minyak otomatis otomatis anyar
1. capacity:4000-25000BPH(500ml)
2. guarantee:2 years
3. high quality, good price
---
An 8000BPH (bottles per hour) automatic coconut oil filling machine line is a high-speed bottling system designed for the efficient and accurate filling of coconut oil into containers. This type of filling machine typically consists of several components, including an unscrambler, bottle washing machine, filling machine, capping machine, labeling machine, and packaging machine. The overall production line is designed to work together seamlessly to achieve a high rate of production while ensuring that the quality and accuracy of the fill is maintained.
The specific features and specifications of an 8000BPH coconut oil filling machine line may vary depending on the manufacturer and the intended application, but some common features include:
High-speed production: This type of machine is designed to fill containers at a high rate of speed, with the capability of filling up to 8000 bottles per hour.
Precision filling: A sophisticated control system and precise filling nozzle ensure that each bottle is filled to the exact volume specified, with minimal waste.
Adaptability: Many coconut oil filling machine lines are designed to be adaptable to different bottle sizes and shapes, allowing for easy changeover and minimal downtime.
Quality control: A variety of sensors and inspection systems are integrated into the production line to ensure that the filling and capping processes meet the necessary quality standards.
Ease of use: The machines in a coconut oil filling machine line are typically designed with user-friendly controls and intuitive operation, making them easy to set up and operate.
Overall, an 8000BPH automatic coconut oil filling machine line is a reliable and efficient solution for bottling coconut oil, with the capability of achieving high production rates while maintaining a high level of accuracy and quality control.